Despite the status of marijuana in the United States - the majority of American states still ban its use - experts believe that there are plenty of opportunities in marijuana stocks for investors in the next decade. The states where it has been made legal have high growth, and many more states are on the path to legalization. The demand from consumers of all types makes it one of the more exciting industries to watch in 2020.
Top Marijuana Stocks
Similar to other industries, there are as many bad companies as there are good ones in this arena. Whether you are a rookie or a veteran investor, it is best to know which ones are worth your attention. Here are a few reputable places to start.
Canopy Growth Corporation
Canada's Canopy Growth has just changed leadership, with former Constellations Brand CFO David Klein taking over the reins from ousted CEO Bruce Linton. It was during Linton's time when Canopy tried to expand to other, less developed markets which turned out not to be a good move. Losses piled up. By December last year, Linton left Canopy.
Right now, Canopy is still a small to a medium-sized player in the American market. With David Klein's leadership, though, the company is set for bigger things. The company has already procured a license to grow hemp in New York. They now have a 308,000 square-foot property in Kirkwood, which they expect to be operational in 2020.
The company's other plans to correct its course include pulling out its operations in South Africa and Lesotho and pulling the plug on its cultivation in Columbia. Also, Canopy will be closing its indoor facility in Saskatchewan to further align its production in Canada with the conditions in the market.
The company also found itself with an oversupply of hemp coming from 2019's growing season, so they will stop farming operations in Springfield, NY. In May this year, the company announced it will refocus its strategy on Canada, the United States, and Germany and would no longer be seeking geographic expansion. The products that they will sell are those that will give them the best returns, according to Klein.
Canopy Growth went digital last year. The company launched a new line of CBD-related products that customers from dozens of states can order online and will be shipped directly to consumers.
The company also partnered with Martha Stewart to develop new products. With a well-known and credible celebrity getting onboard, plus new strategies in place, Canopy Growth is set for a strong rebound in the coming years.
Tilray
Like Canopy, Tilray is a Canadian company that is also looking to grow in the next few years. Although the company does not have Martha Stewart on its side, it did acquire Manitoba Harvest last year. What this means for Tilray is that it now has a vast array of hemp products in its portfolio. These products were already in the United States and Canadian markets before the acquisition.
With this merger, Tilray is now one of the leading hemp producers in the market. The company has reported recent quarterly earnings of $15.7 million over the last three months coming from hemp sales. This is a little less than their earning from adult-use marijuana sales in Canada, which is $15.8 million.
The procurement of Manitoba Harvest gives Tilray the unique opportunity to become a dominant player in the hemp market not just in Canada and the United States, but worldwide as well.
Aphria
With the increase in cannabis demand during the pandemic as people stayed indoors, Aphria is poised to corner most of Canada's pot market. Aphria's stock rose steadily n the past few months.
According to Christopher Carey, an analyst from Bank of America, Aphria is one of the few marijuana stocks that have the potential to become profitable. "We estimate robust sales growth validated by consistent market share gains complemented by profitability."

Why invest in marijuana
These are exciting times for the US marijuana market. Canopy Growth, Tilray, and Aphria are three of the top companies in this industry, and they are all ready to do something big before the year 2020 ends. They are soon to make a huge impact in the US market and already have strategies in place.
With the passage of the 218 Farm Bill, the legalization of hemp at a federal level allows many states to grow industrial hemp for commercial reasons. Since hemp is now legal, there are no impediments to the transfer of hemp from one state to another.
Marijuana and CBD oil are slowly gaining acceptance from the medical community. Research has shown that CBD oil can help treat anxiety and stress as well as reduce the risk of obesity and diabetes.
Hemp's fiber is also very useful; it can be used to make paper, construction materials, and clothing. This makes hemp extra valuable and environmentally friendly since it has plenty of uses.

How to invest in marijuana
If you are now thinking about purchasing marijuana stocks, but not sure how here are a few tips to get you started.
Learn the types of marijuana products.

There is medical marijuana and there is recreational marijuana. There is also cannabidiol, a natural substance that is used in oil and edibles.
Understand the different types of marijuana stocks.
You have marijuana growers like Tilray and Canopy; biotechs like GW Pharmaceuticals; and other supporting products and service providers.
Know that there are risks in marijuana stocks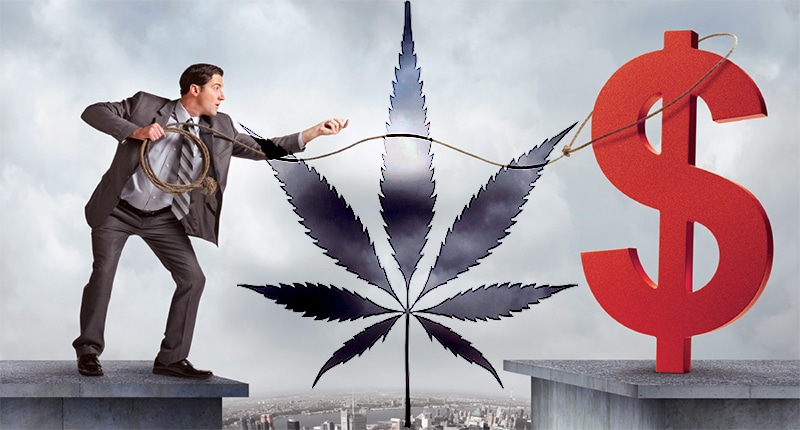 There are legal risks since there are only 11 states in the US that have legalized the use of marijuana. This could impact supply and demand.
Invest carefully
Diversification is key. While the future looks bright, governmental controls are unpredictable, so you may consider minimizing your exposure to marijuana stocks to limit risks.
Closely monitor changes in the industry
When it comes to marijuana, laws, and regulations, and business strategies change quickly. There can be swift changes that may offer both positive or negative impacts on your investments, so following some investor sites and industry news sources will be important.
Managing risks
Like any other investment, consider carefully your tolerance for risks when choosing marijuana stocks or other investment vehicles. While it is true that the demand for marijuana appears to be at an all-time high, experts are still watching with a cautious eye. It will probably take some more time for financial experts to get a clearer view of growth potential and possible earnings.
If you think marijuana is the right fit for you as an investor but do not have the time to study each company, you may want to look into either an exchange-traded fund, ETF, or a cannabis index. ETFs free you from having to worry about the highs and lows of investing in individual hemp companies.
Conclusion
While many investors have lost money over the past few years investing in the cannabis space, many still see the long-term potential. With everything taken into account; rising demand and record sales, this could be a good time to invest in cannabis companies. Many speculative investors view it as one of the best long-term investment opportunities in the market right now. Regardless of your political or philosophical views, our advice is to keep a close eye on this industry.